Baby Swimming Lessons in Singapore
Swimming Lesson for Infants & Toddlers
If you are seeking an experienced swim instructor to provide infant swimming lessons, Little Fishes might be perfect for you. At Little Fishes Swimming School Singapore, we specialize in providing swimming lessons for parents and infants in group settings.
Benefits of infants and toddlers learning swimming
If you are wondering how swimming benefits your infants and toddlers, please consider the following:
Heart and Lungs
While many are aware of the fact that swimming is great exercise, it can also be beneficial to help develop your baby's respiratory and cardiovascular systems. In particular, swimming is known to help develop a baby's heart and lungs.
Bonding Time
Swimming lessons allow for bonding time; Bonding with your babies during their early days is imperative to build a solid foundation for your baby's future.
Boost Water Confidence
Rather than waiting until later in life, getting swimming lessons for your infant helps to boost water confidence, buoyancy, water safety skills, and even encourages muscle development throughout the process.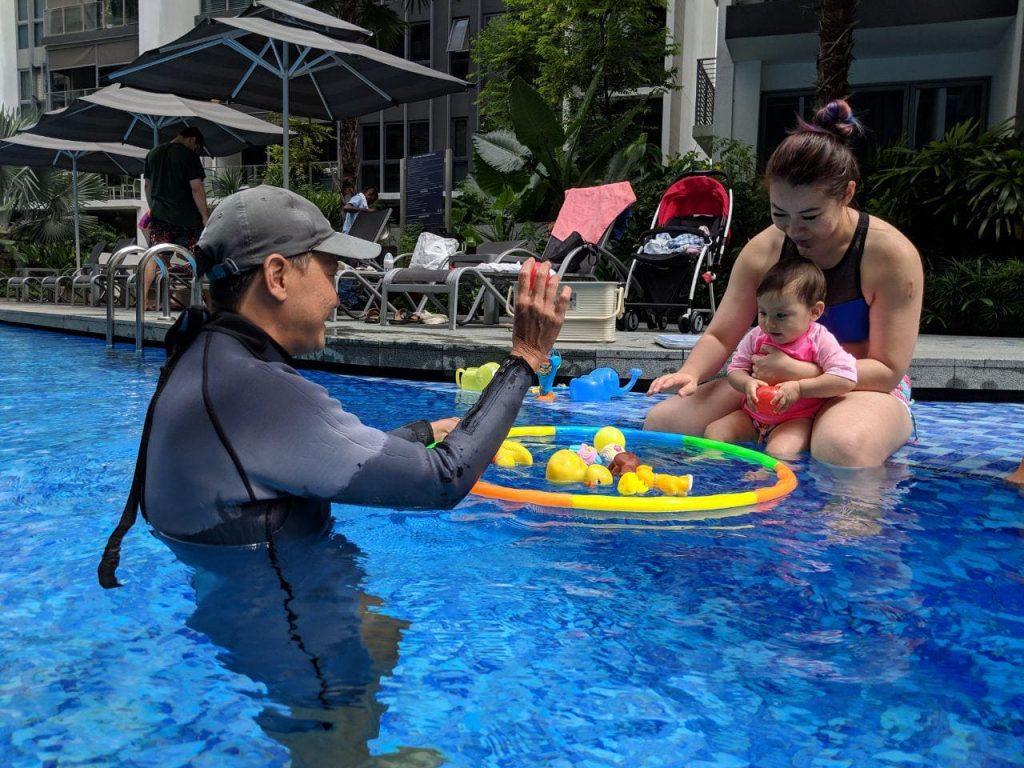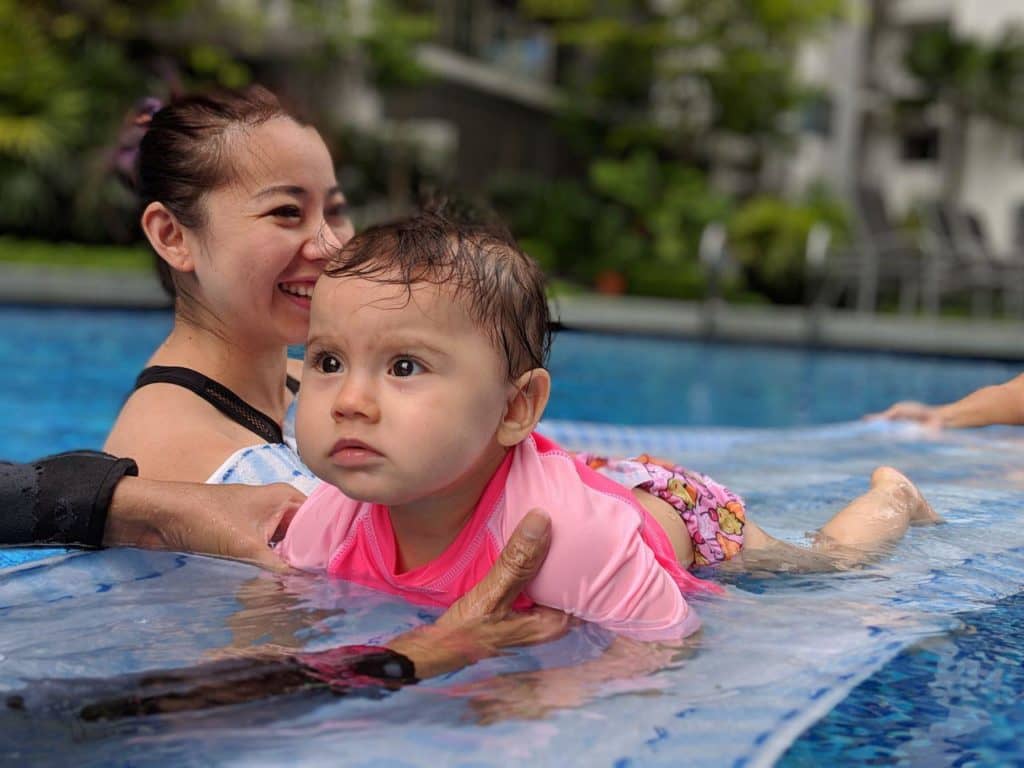 About Little Fishes Swimming Lessons
Available for toddlers and baby swimming lessons aged 18 months to 24 months, infant swimming lessons are conducted in groups. Moreover, lessons are conducted in the following ways:
Duration of the lesson
30 mins per lesson
12 Swimsafer Lesson/ 3-Months Frame
Group setting
Per group consists of 3 to 5 students. 1 parent has to be there with baby or toddler.
Private Lessons Available
On weekdays, lessons for 1-on-1, home appointments are on weekdays, depending on the coach's availability.
Private group settings are also accepted in groups of up to 5.
Class Policy
For baby/infants/toddlers, they must have swimming diapers before entering the pool.
Students are advised not to change the stipulated timing/days as it interferes with the class size and lesson adversely. Parents are greatly encouraged to follow course guideline and learning objectives in each level for the participants to avoid subjective outcomes
"The playing adult steps sideward into another reality; the playing child advances forward to new stages of mastery." – Erik Erikson
At Little Fishes, we believe that the key to effective learning is intentional play and learning. While there are ample opportunities for parents today to allow their children to play freely, intentional learning is often lacking. At little Fishes, while play is still important, the programmes are also tailored to specially consider the following aspects:
Multiple intelligences: such as verbal, visual, naturalist intrapersonal, rhythmic, logical, interpersonal, kinaesthetic and mathematical intelligences
Holistic development: the programmes are specially tailored to include activities that are aimed to explore the multiple intelligences within a session so that the child will develop more holistically.
Creative and Imaginary Development
While we know that parents are the most influential persons in a child's life, our programmes are also aimed to empower parents with skills to guide their babies in establishing patterns for learning. The Little Fishes programmes are all parent-accompanied, with a small class ratio of 1 teacher: 5 students per class. The lessons are held weekly at an optimum duration of 30 minutes per session.
Our enrichment playgroups provide an excellent head start for a holistic development of the child. At the end of the full session, your child will develop:
– Recognition of Safety
– Understanding of breathing techniques
– Language and Speech Development
– Observational and Listening Skills
– Fine Motor Skills
– Rhythm Awareness
– Sensory Awareness
– Creativity and Imagination
– Self-Confidence
– Social and Interpersonal skills
– Joy for Learning
WATER TRAINING
Do you know that babies are born natural swimmers? Their nine months in the mother's womb makes them adapt naturally to water environment and can enhance growth and development. There are benefits your baby can get from splashing, kicking and having fun in the water – it stimulates the body's nerves essential to your baby's wellbeing, boosts their confidence and also improves their Musculo-skeletal system.
MASSAGE
Studies have shown that babies who are frequently touched and stroked lovingly. tend to grow faster, recover from illness more quickly, sleep better, experience less constipation and fewer digestive problems. They also recover from distress more quickly and are more settled.
Why massage your baby?
Calms a fretful child and induces sleep by reducing anxiety and promoting relaxation.
Promotes regular sleep/wake cycles.
Relieves wind and colic.
Improves immune system function.,,