Heartbeat bedok: All You Need to know
Do you want to measure the total land area for Heartbeat@Bedok? It's big and the size of this plot is more than 3 football fields!
Heartbeat@Bedok is officially launched on 4th February 2018 at Bedok North Street 1. It is the second community and lifestyle hub ever constructed in Singapore at the moment.
The height of this building is 7 storeys high so do not attempt to scale it. The Swimming pools are on Level 5, badminton courts on Level 4 and tennis courts on Level 7. In this integrated facade, It is home for a community club at the ground floor, sports center on level 4, Polyclinic on Level 3, Senior care center on level 2 , Public library on level 2 and also more than 30 retailers under one roof. Having a big sports facility which is taking up four-levels of the building is already amazing without mentioning the green trees and plants to cool the inside of the building yet. It has 8 indoor badminton courts, 6 sheltered tennis courts, 4 sheltered swimming pools, 1 interactive play pools, and a gym. Feeling wow! Right? Yes! You can access to all of these sports under 1 roof.
Grassroots advisor Lee Yi Shyan said, "When we started to brainstorm on this idea, we never know that Our Tampines Hub was in parallel to heartbeat@bedok. Only after it is developed, then we realised that It is a pure coincidence. It is only much later that we realized."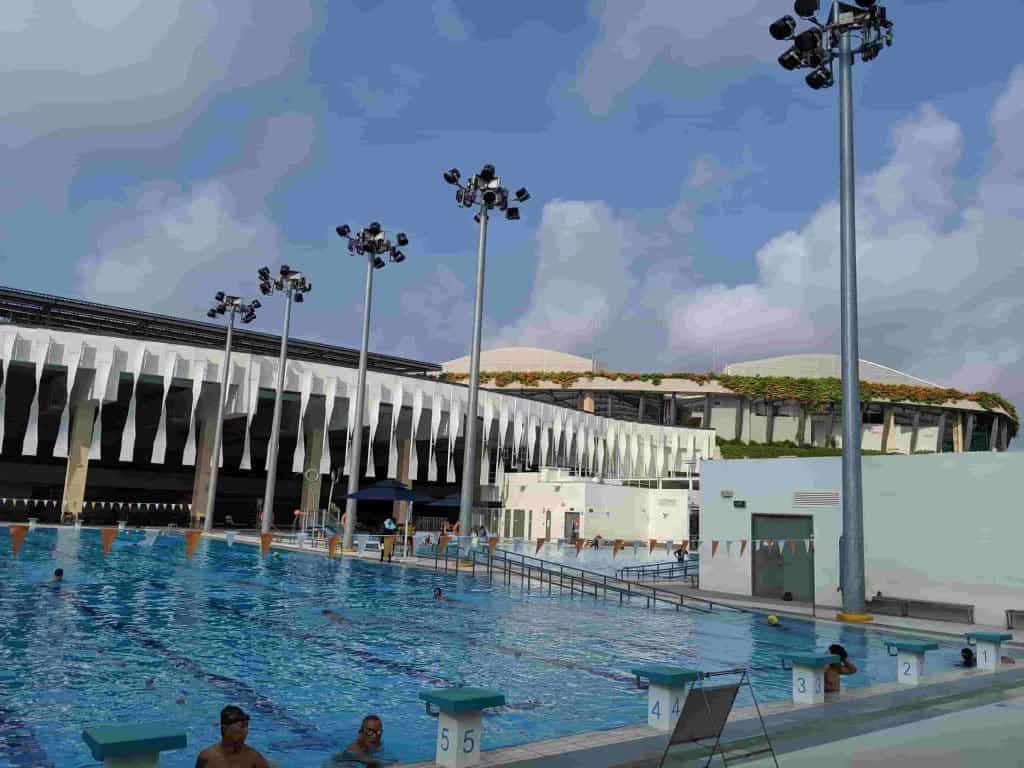 Do you want to do your morning exercises at the atrium or do you want to take a swim in the pool? It will be very easy for you. The Location is only a walking distance from the Bedok MRT station and also a walking distance away from the bus Interchange. Commercial malls and food centers are also surrounding this building. There are also many community programs which your family, friends and yourself can participate for food, health and sports.
This is undoubtedly a wonderful place for book lovers. Yes, a Public library! So, move around and enjoy books with book lovers. This library covers an area of 4,150 square meters, spreading across the 2nd and 3rd level of Heartbeat@Bedok, and serves residents in the South East areas of Bedok North, Bedok Reservoir, Bedok South, Frankel, Kaki Bukit and Kembangan.
The heartbeat@Bedok is that building that has the largest and second most active health lab. The residents of Bedok can learn to manage their health aura or fitness competency by participating in the programs available.
The agencies are providing at least 40% of their services committed to another agency. For example, SingHealth and ActiveSG are a partners in sports and wellness. Singhealth will recommend some patients for gym appreciation at the gym club or take a swim in the lap pool. I think it's a great idea!
If you think that the Polyclinic is for sick people, then you are wrong. If you are looking for wellness, this polyclinic will help you greatly. Dr. Juliana Bahadin who is the clinic director of Bedok polyclinic said that "We want to create a healthy ecosystem for our patients beyond the borders of our clinic for chronic and lifestyle diseases patients". Patients also can enjoy life by overcoming all their adversities.
The Heartbeat@Bedok is built from a unique, planned, work of art which reflects innovative for modern community-centric buildings. It contains an impressive array of passive environmental controls. It has rainwater and grey water systems which is used to mitigate solar heat and radiation. The result for this system is an environmentally friendly building, centered on reduced energy consumption, and lower building operation and maintenance costs.
Almost 11 thousand people had given their opinion to further improve the facilities of Bedok at heartbeat.