Corporate Swimming Lessons
Corporate swimming lessons is a deal reserved for organizations seeking for team bonding – as a retreat for team building or even frequent check-in activity every now and then. Little Fishes provides swimming lessons available to organizations who want to value-add life skills in the lives of the employees as a leisure lifestyle, fitness or competitive activities.
Either way, swimming is the perfect corporate bonding activity. It brings all team members together, excluding no one. With good swimming instructor, the team can achieve great results.
At Little Fishes, we accommodate everyone. From competitive individuals who desire to venture into competitive swimming to private swimming lessons, to those individuals interested to know more about swimming or even for leisure.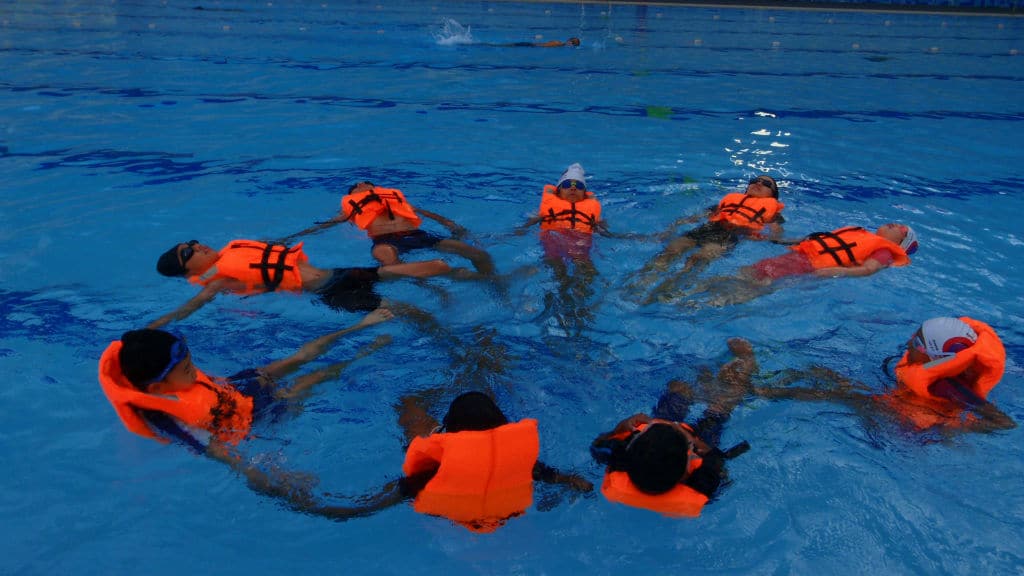 Swimming, for a healthy lifestyle.
Swimming helps the body to relax and feel rejuvenated. Besides the general health benefits and relieving stress, swimming facilitates better blood circulation and an energy boost after a long day!
Benefits of swimming as a team sport
At a personal level, swimming is a health booster for general well-being. This also applies to the corporate body:
Swimming is characterized with less impact on the joints compared to land activities like running and basketball.
Burn calories effectively.
Swimming prepares you for more activities like diving and water polo.
Consistency and motivation.
Creates fun moments to enjoy as a team.
As work are often at a serious tone, Little Fishes uses swimming lessons for the learners as opportunities to relax and explore themselves when away from work. Team swimming motivates consistency in team performance, especially when staying on course and finished as one.
Corporate Swimming Insights
In swimming, there are many lessons about survival and endurance. This can apply onto business as one keeps trying, changing strategies till opportunities arise.
It can be a friendly competition. As businesses balance themselves between their competitors to acquire the best results, members who compete doesn't mean they are enemies. They works as team to achieve similar goals together.
Team participation and the sense of competitiveness attribute to the sense of achievement. This leads to appreciating cultural diversity and acquisition of life skills.
Little Fishes Swimming Experience
Corporate swimming lessons are for adults, with or without experience. With instructors' experience, learning swimming can be as easy as it goes. We help you explore the water world with ease as you're having fun.
Signing Up for Little Fishes Swimming Lessons for Corporate

Call us today or inquire about the swimming lessons below. At Little Fishes, we are all about your swimming needs.